eReader Prestigio: Book Reader
6.2.1
Fulfill Your Passion for Reading with this Amazing Book Reader
Is reading books a favorite hobby of yours? Can't afford the paperback versions of your favorite books? If yes, then you will find this book reader to your liking. eReader Prestigio: Book Reader is a cool app which allows you to read eBooks and magazines on your phone in a variety of different formats. It lets you download eBooks to your phone and then read them as if you are reading their paperback versions. There are eBooks of multiple genres available in a store within the app. You can find both free and premium eBooks in this store. Moreover, you can also scan your device to find eBooks that you already have on your phone. Despite its many benefits, this app is very intrusive and can pose a threat to your privacy.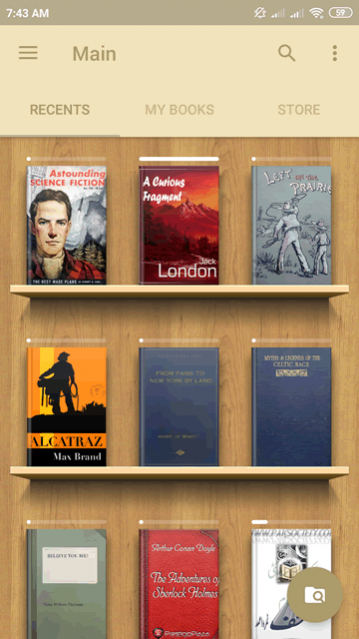 eReader Prestigio: Book Reader has an intuitive user interface which meshes perfectly with its elegant design and layout. The home screen is simplistic but offers you links to all the main sections of this book reader. You have three tabs available on the home screen which are Recents, My Books and Store. The Recents and My Books tabs contain the books that you have recently added or downloaded to your bookshelf. In the Store tab, you will find a huge collection of free and premium eBooks. The free books can be downloaded without paying a cent while the premium books only cost a few euros. You will also find a scan button located on the bottom-right corner of the home screen. It is for scanning your device for any eBook that you might already have.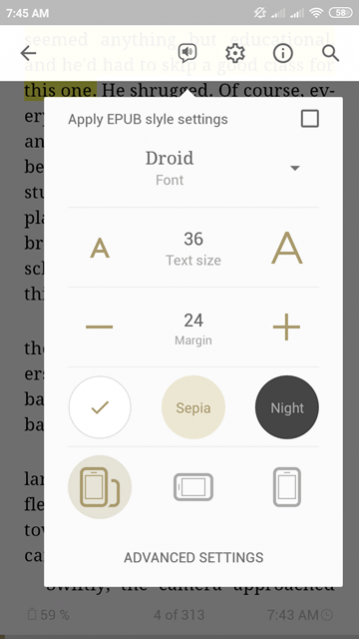 This store section of this book reader is like a heaven for book enthusiasts. You can find eBooks of multiple genres in this store. From adventure to romance to humor, you will easily find an eBook that you would be interested in reading. You can also search for eBooks that you want to read. There is a search box provided on the top of the screen in the store section for this purpose. After having found an eBook that you like, you just need to download it to your phone to begin reading it. However, before you can download any eBook from the store, you need to create an account first. The account creation process isn't difficult, though. You can complete it within seconds.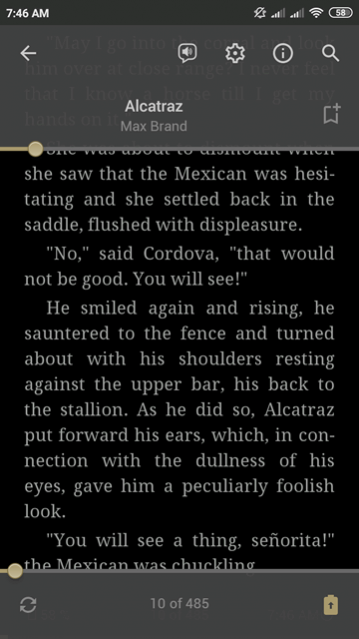 eReader Prestigio: Book Reader enables you to read eBooks just like you would read a paperback. You can flip the pages with a mere swipe of your finger. But since you are reading the book in digital format, there are many other perks available to you that you won't find when reading a paperback. For instance, you can search for any word in the text of the book using the search tool. Moreover, you can change the font style and font size of the eBook as per your preferences. There is a night mode available too which ensures that you don't have trouble reading at nighttime. Also, there is an audio mode available which lets you listen to the eBook instead of reading it.
Features:
Intuitive user interface
Elegant design and layout
Scan your device for eBooks
Read eBooks in multiple formats
A huge collection of free eBooks available in store
eBooks available in many languages
Multiple genres of eBooks on offer
Purchase premium eBooks at very low cost
Download eBooks to your phone to read
Lots of customization options available
Night mode for reading at nighttime
Listen to eBooks by enabling audio
Conclusion:
eReader Prestigio: Book Reader is an app which is aimed towards people who are fond of reading but don't want to invest in paperbacks. It provides them the opportunity to search for eBooks in different formats on their device as well as download them from an eBook store provided within the app. It is a book reader worth having on your phone if you aren't that concerned about your privacy.
---
Add a review
Tell us your experience with
eReader Prestigio: Book Reader
6.2.1
RELATED PROGRAMS
Our Recommendations
---
---
---
---